Stewardship 2020
We who are involved with the life of the Church and our Christian faith
are given the responsibility to sustain and preserve our faith.
We are the recipients of God's gifts and
play an active role in perpetuating His work of salvation.
We need your prayers, love and financial support
to meet the needs of our Saint Demetrios Church.
Click here for a Stewardship Information Brochure
Click here for a Stewardship Enrollment Card [printable at home]
Click here for additional Stewardship information
Please remember to submit your completed 2020 Stewardship Enrollment Card to the Church Office as soon as possible.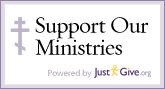 ==========
Click below
to visit our
Facebook page
===========
Click below
to visit our
YouTube channel
(Please subscribe
to our
YouTube channel)
===============
History
The Church has her origin with Jesus Christ and the Holy Spirit, not with a human teacher, or group, nor a code of conduct or religious philosophy. Learn more»
If you would like to light a candle or make a donation to our Parish, please click below: