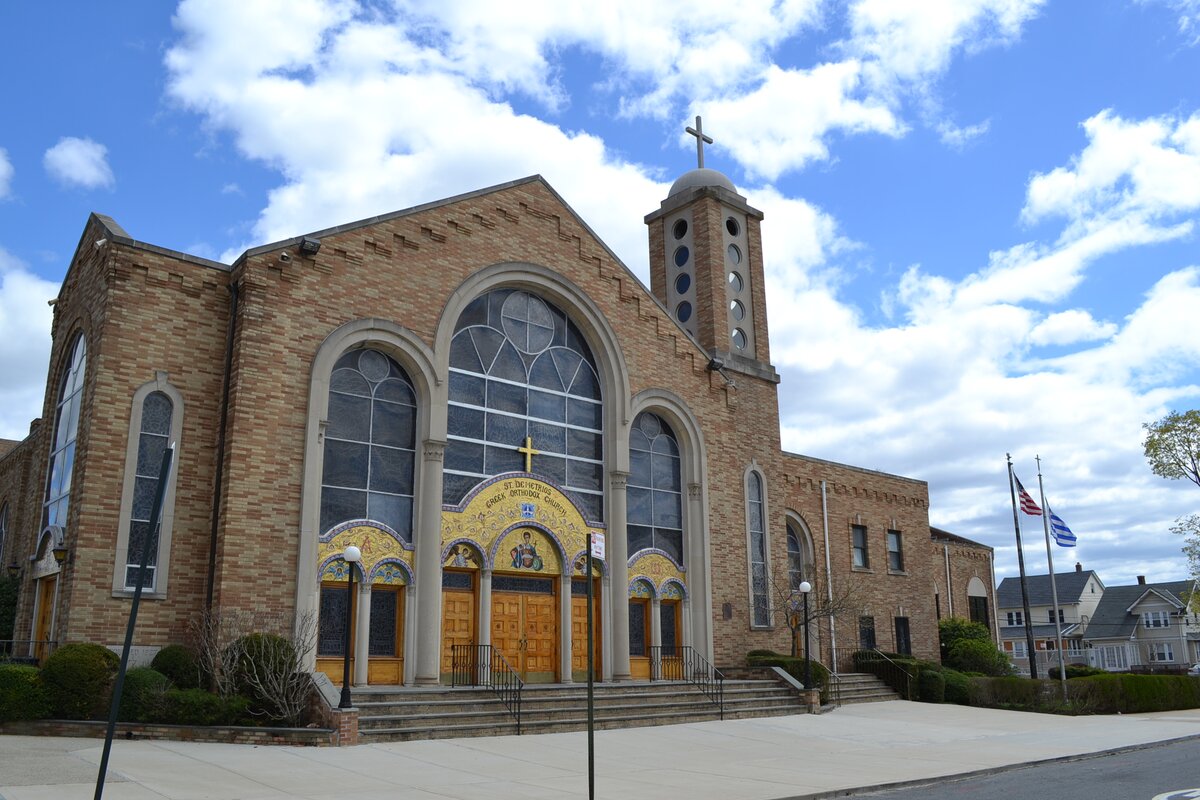 Saint Demetrios Greek Orthodox Church
84-35 152 Street
Jamaica, New York 11432-1641
Tel. 718-291-2420 Fax 718-526-6775
---
Reverend Father Konstantinos Kalogridis, Economos
Reverend Father Mircea-Michael Dobre, Priest
---
---
Worship Schedule
Sundays: Orthros 8:30 am Divine Liturgy 10 am (Coffee and Fellowship Hour in the Church Hall following the Divine Liturgy)
Weekdays: Orthros & Divine Liturgy 8:30 am
Click here for the complete--->Church Schedule of Services for Holy Lent
Click here for the complete--->2017 Holy Week Schedule of Services
---
Click here for the---> March 26th Weekly Bulletin
Sunday March 26th--Greek Independence Parade on Fifth Avenue
---
Click here for the--->Greek Independence Parade photos

Click here for the Sunday---> March 19th photos-- Adoration of the Cross
Click here for the--->March 5th---Sunday of Orthodoxy Photos
---
Click here for the--->>Parish Calendar
---
This week at Saint Demetrios Jamaica:
Church Services:
Monday March 27th 7 pm Great Compline
Wednesday March 29 8:15 am Pre-Sanctified Liturgy
Friday March 31 7 pm Akathist Hymn to the Theotokos
Events:
Monday March 27--- 7 pm--- GOYA Meeting
Tuesday March 28---7:30 pm Bible Study
Wednesday March 29---4 pm---Greek School
Sunday April 2---
The Saint Demetrios Ladies Philoptochops Society
Invites You To Its Fasolada Luncheon
Following The Divine Liturgy
Donation $10 (Children $5)
[Pasta if desired]
---
Parish News: (updated March 26)
Save the date!
The Saint Demetrios Ladies Philoptochos Spring Luncheon is Tuesday May 9th at the Swan Club in Roslyn Harbor
---
2017 Stewardship
Please remember to submit your 2017 Stewardship Commitment form to the Church Office. Click here to print the form at home.
Click to view or print a--->> 2017 Stewardship information brochure.
---
The Sacraments
One of the best-known prayers of the Orthodox Church speaks of the spirit of God being "present in all places and filling all things." This profound affirmation is basic to Orthodoxy's understanding of God and His relationship to the world. Learn more»