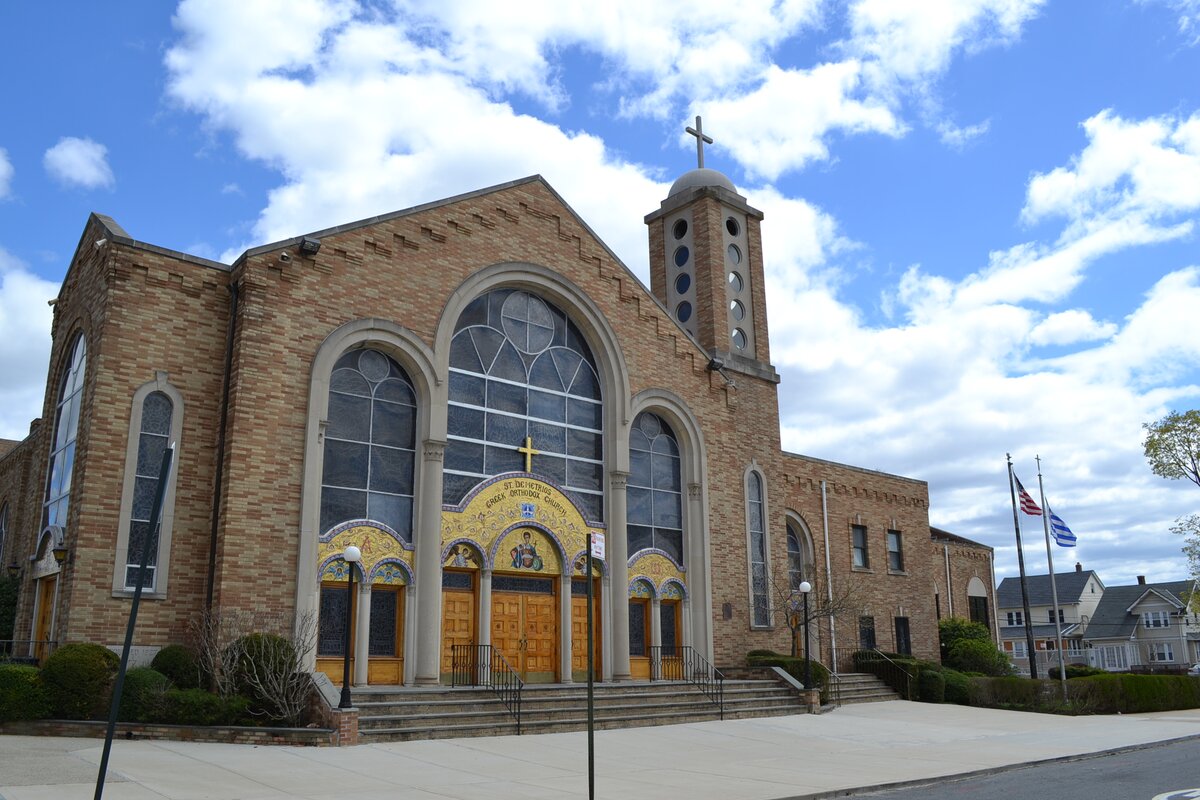 ---

Tel. 718-291-2420 Fax 718-526-6775
---
Reverend Father Konstantinos Kalogridis, Economos
Reverend Father Mircea-Michael Dobre, Priest
---
Worship Schedule
Sundays: Orthros 8:30 am Divine Liturgy 10 am
(Coffee and Fellowship Hour in the Church Hall following the Divine Liturgy)
Weekdays: Orthros & Divine Liturgy 8:30 am
---
For driving directions to Saint Demetrios Jamaica click HERE [Ample parking]
---
October 15th Weekly Bulletin Click HERE

---
The Saint Demetrios Parish Calendar of Services and Events for this week:

Monday Oct 16
Greek School 4 pm
GOYA Meeting 7 pm
Tuesday Oct 17
Bible Study 7:30 pm
Wed Oct 18
Greek School 4 pm
Fri Oct 20
Saint Gerasimos--- Orthros & Divine Liturgy 8:30 am
Sat October 21
8:30 am to 9:30 am Greek Dance Lessons for children
---
PARISH NEWS
(updated October 15)
==============
General Assembly
The next General Assembly will be convened on Sunday, November 5, 2017, in the Church Hall immediately following the Divine Liturgy.
All are welcome to come, listen and participate.
Voting privileges remain with all those who have fulfilled their membership to our parish for the year 2017.
[See Church Stewardship section below]
==============
Our newly constructed ADA compliant access ramp is open.
==============
See the JOY/HOPE webpage under the Ministries menu for the 2017-2018 JOY Schedule
===============
Schedule for Saint Demetrios Vespers (Oct 25th) and Saint Demetrios Day (Oct 26th)
Click HERE

==========
His Eminence Archbishop Demetrios
will visit our Parish
on Wednesday October 25 at 7 pm
for the Saint Demetrios Vespers service.
==========
Thursday Oct 26: The Ladies Philoptochos Saint Demetrios Day Luncheon
Click HERE for flyer
==========
GREEK DANCE LESSONS FOR CHILDREN
We have established a Greek Dance program for children ages 7-13.
The dance lessons are held Saturday mornings at 8:30 am [1 hour]
If you are interested please see or contact Father Konstantinos at 718-291-2420.
===========
Sunday November 12th
Our Ninetieth Anniversary Luncheon
[Click on flyer to enlarge]
########
Saturday December 2nd
A Christmas Concert
Tickets will be on sale outside the Church Office on Sundays following the Divine Liturgy
########
Save the date:
Tuesday Dec 12 The Ladies Philoptochos Christmas Luncheon
at the Douglaston Manor
==============
Sunday School
Registration continues for the Fall 2017 semester
Please see the Sunday School webpage in the Ministries menu for further information.
########
Greek Afternoon School
Registration continues for the Fall 2017 Semester
Please see the Greek Afternoon School webpage in the Ministries menu for further information.
To view photos of the 2017 Greek School Graduation Exercises CLICK HERE
+++++++++++++++
Church Stewardship
We who are involved with the life of the Church and our Christian faith are given the responsibility to sustain and preserve our faith.
We are the recipients of God's gifts and play an active role in perpetuating His work of salvation.
We need your prayers, love and financial support to meet the needs of our Saint Demetrios Church.
Please consider fulfilling your 2017 Annual Membership Pledge.
To print the Pledge Form at home click HERE.
To view or print a Stewardship Information brochure click HERE
+++++++++++++++
2017 Greek Festival photos---click here
########
Our Sunday School Awards Ceremony
was held Sunday June 4th
following the Divine Liturgy
Click here for more Sunday School photos
---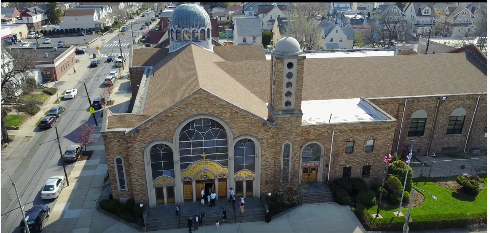 Aerial photo of our Church by Vagelis America
---
---
Teachings
The Orthodox Church throughout the ages has maintained a continuity of faith and love with the apostolic community which was founded by Christ and sustained by the Holy Spirit. Learn more»