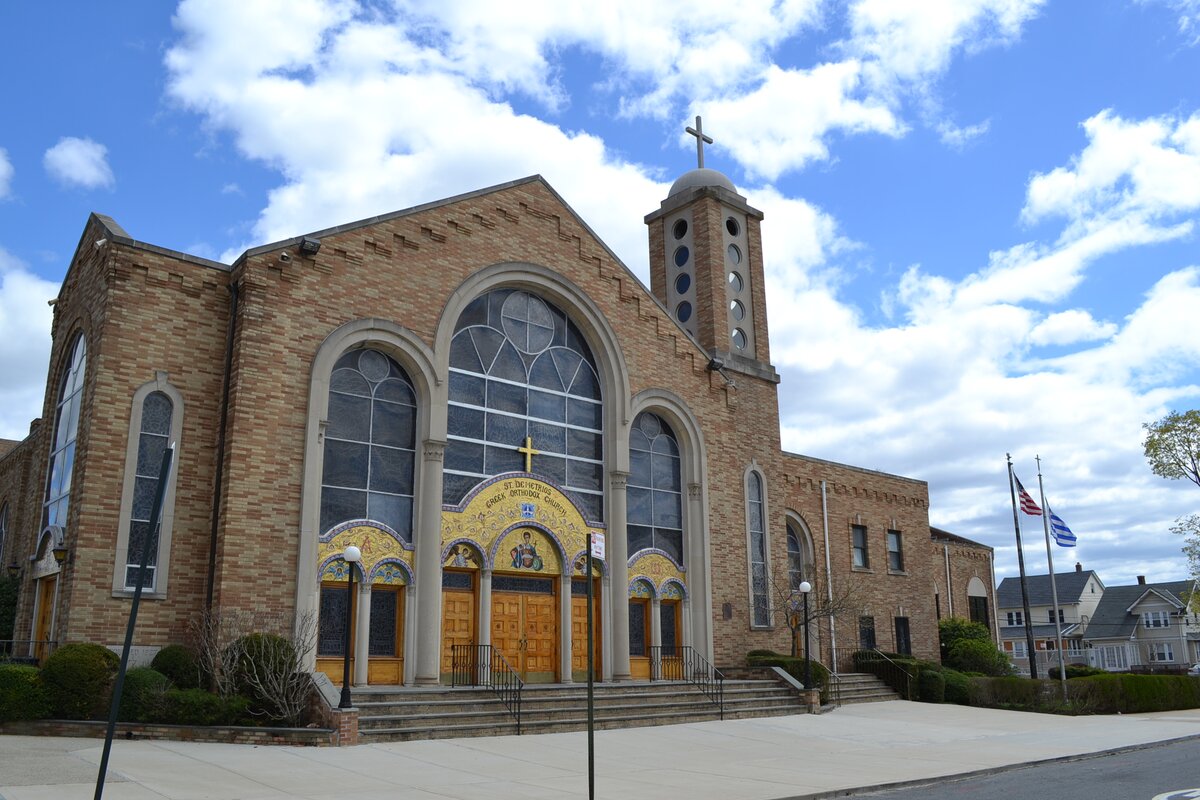 ---

90th Anniversary 1927-2017
Tel. 718-291-2420 Fax 718-526-6775 www.stdemetrios.ny.goarch.org
---
Reverend Father Konstantinos Kalogridis, Economos
Reverend Father Mircea-Michael Dobre, Priest
---
Worship Schedule
Sundays: Orthros 8:30 am Divine Liturgy 10 am
(Coffee and Fellowship Hour in the Church Hall following the Divine Liturgy)
Weekdays: Orthros & Divine Liturgy 8:30 am
---
For driving directions to Saint Demetrios Jamaica click HERE [Ample parking]
---
Weekly Bulletin--- Click below
---
The Saint Demetrios Parish Calendar of Services and Events for this week:

Monday Nov 20
Greek School 4 pm
Tuesday Nov 21
Entrance of the Theotokos- 8:30 am -Orthros & Divine Liturgy
Bible Study 7:30 pm
Wed Nov 22
Greek School closed
Thursday Nov 23
Thanksgiving Day-Church Office will be closed.
Sat Nov 25
Saint Catherine Orthros & Divine Liturgy 8:30 am
Greek Dance Lessons are not scheduled for this week
---
PARISH NEWS
(updated November 24)
==============
The Parish Council Election will be held on Sunday December 3 from 11 am to 2 pm
===============
The Saint Demetrios Jamaica Community Christmas Card
The FINAL day to sign up for the Community Christmas Card,
Sunday-Dec 3, is quickly approaching.
For a modest contribution of your choice
you can send Christmas Greetings to over
three hundred Saint Demetrios Jamaica Parishioners!
Contributors' names will be printed on a beautiful three panel cardstock card.
Stop by the table that will be outside of the Church Office on
Sunday November 26 or Sunday December 3
to enroll for the card.
A receipt will be issued for all contributions.
If you can not make it in to sign up,
there is a convenient mail in form available
that you can use until Tuesday November 28
Click on the flyer below to access and print the mail-in form.
===========
Saturday December 2nd
A Christmas Concert
(Click below to view the flyer)
Concert tickets will be on sale Sunday November 26
following the Divine Liturgy, outside of the Church Office.
==========
Save the date: Tuesday Dec 12
The Saint Demetrios Greek Ladies Philoptochos Society
Christmas Luncheon
[Click below to view flyer]
==============
Parish Council Members Margo Pangalos and Mike Papagianopoulos
were guests on Hellenic Public Radio-Cosmos FM 91.5 on Monday November 20th
To listen to the broadcast click HERE

===============
GREEK DANCE LESSONS FOR CHILDREN
We have established a Greek Dance program for children ages 7-13.
The dance lessons are held Saturday mornings at 8:30 am [1 hour]
If you are interested please see or contact Father Konstantinos at 718-291-2420.
===============
Sunday School
Registration continues for the Fall 2017 semester
Please see the Sunday School webpage in the Ministries menu for further information.
==========
Greek Afternoon School
Registration continues for the Fall 2017 Semester
Please see the Greek Afternoon School webpage in the Ministries menu for further information.
To view photos of the 2017 Greek School Graduation Exercises CLICK HERE
+++++++++++++++
Church Stewardship
We who are involved with the life of the Church and our Christian faith are given the responsibility to sustain and preserve our faith.
We are the recipients of God's gifts and play an active role in perpetuating His work of salvation.
We need your prayers, love and financial support to meet the needs of our Saint Demetrios Church.
Please consider fulfilling your 2017 Annual Membership Pledge.
To print the Pledge Form at home click HERE.
To view or print a Stewardship Information brochure click HERE
+++++++++++++++
2017 Greek Festival photos---click here
==========
Our Sunday School Awards Ceremony
was held Sunday June 4th
following the Divine Liturgy
Click here for more Sunday School photos
---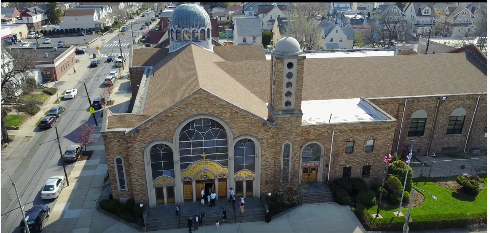 Aerial photo of our Church by Vagelis America
---
House of God
The visitor to an Orthodox Church is usually impressed by the unique features and the external differences between this place of worship and those of the various traditions of Western Christianity. Learn more»